Product Description
Product Description:
Electric Linear Actuator For Medical Bed
Hospitals across the world face a reality in which there are fewer staff to attend to an increasing number of patients. Those currently in need include the elderly, obese, and patients with multiple diagnoses. Both trends call for improved applications able to help improve comfort for patients, ergonomics for staff and efficiency levels for hospitals. Using Electric Medical Bed actuator systems to provide movement and intelligent features in hospital beds will allow manufacturers to meet demands and have several advantages in a fierce market.
Hospital Bed Motor Actuator Parts has been revolutionized by customizable technologies, notably electric linear actuators. From lift chair and patient hoist actuators to hospital bed actuators, Xinyi Bed Actuator has provided manufacturers with medically certified linear motion products which have been designed specifically for the healthcare industry. These products are used to make healthcare and home settings safer and more efficient than ever.
Technical data:
Input voltage:12VDC/24VDC/36VDC
Max.load:Thrust 6000N,Pull 4000N
Speed: (5mm/s 6000N) (10mm/s 3000N) (20mm/s 2000N) (40mm/s 800N)
Duty cycle:10%,stop for 18 mins after continuoulsy working 2 mins
Ip grade:IP 54
Limit switch:Built-in limit switch,non-adjustable
Operation temperature:+5℃~40℃
Min.install dimension:285mm(175+stroke) [From center of Mounting Holes]
Max.stroke:450mm
Tail connector:90º rotation available
Memory function:optional
Colour:Black/Grey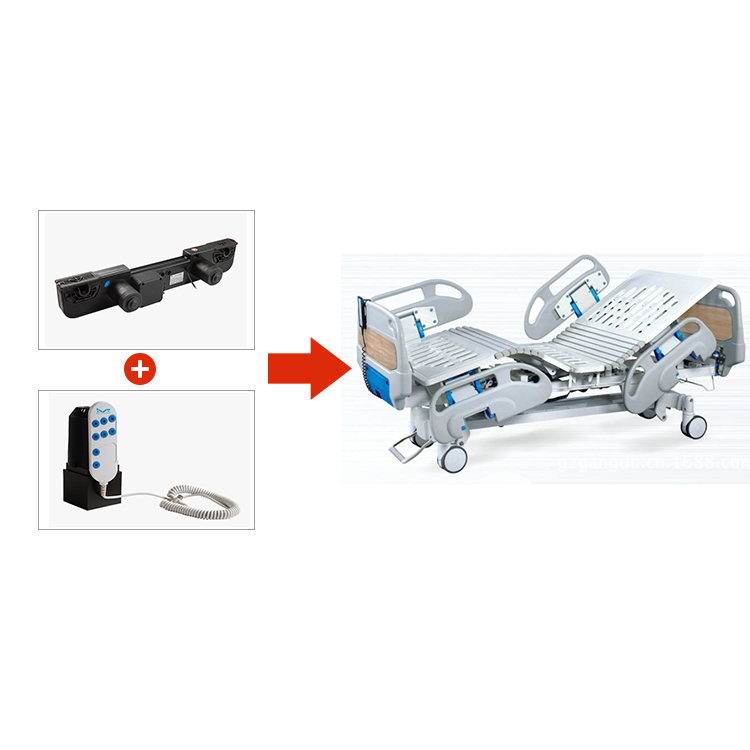 Why choose us:
1.100% copper motor. 5. 6000N=600KG=1230LBS Max force 6. 5mm /second=0.2inch/second speed
2. Wiring included, pre-installed,perfect wire cable.
3. Built-in clutch and limited switch prevents over-extending and over-compressing.
4. Aluminum Alloy House material and Aluminum Alloy extend shaft material 10.
5.Steel connector