Product Description
Product Description:
Office Chair Linear Actuator
An actuators job is to create linear motion. That motion can be applied to any number of processes or functions, whether simple or complex. For example they can be used to shut switches off, turn controls on, raise or lower platforms and pull or push something along a conveyer belt. Tasks such as these are commonly found in furniture factories and the equipment that make said furniture.
Linear actuators for sofa can be found in many different appliances and machinery, but one of its most prevalent uses is in the application and creation of furniture. In furniture making, they help automate a number of processes and functions such as eliminating the monotony of everyday tasks, which in turn speeds up production as well as helping prevent workplace injuries in the factories that make furniture.
It is available with optional IP 54 protection and Hall sensors for position feedback.Its compact design supports load design supports load rating up to 6000N.And actuator for electric sofa is recommended to be used for chair applications.500MM Stroke Sofa Motor,It has the below features:up to 6000N load,quiet and powerful design.The current &speed are tested when the actuator is extending under push load.
The Input Voltage for this Linear Actuator For Sofa Motor is 12VDC/24VDC/36VDC.In addition,the XYA2 Electric Sofa Motor is available with an optional IP 54,IP 66 or IP 66W rating.Smart Furniture is typical application for the XYA3 series linear actuator. Office Chair Linear Actuator are high quality with low noise,over-load protection are installed.Actuator For Massage Sofa are widely used in machine tooles and industrial machinery,in computer peripherals such as disk drives and printers,in valves and dampers,and in many other places where linear motion is required.6000N Stair Lift Chair are quiet and powerful design.Electric sofa,the thrust up to 8000N in push,and up to 6000N in pull.Elegant and compact design with small installation dimensions.
ZHEJIANG XINYI INTELLIGENT DRIVING TECHNOLOGY CO.LTD will provide a full-service to keep you up and running and meet your unique equipment requirements. If you are interested in China Sofa Actuator Linear, You will be amazed by the variety of the product choices such as linear actuator, electric linear actuator, actuator.
Features:Basic and economic design,Up to 8000N load capacity,direct mounting on control box possibility,Long lifetime.
Mimimum installation size(distand between the push holes and the two holes before and after the return of the putter)L=S(stroke)+175mm,the distance between the push and the two holes before and after is extended to =2SX(stroke)+175mm.
Standard protection class:IP 54.Noise level 48 dB.
Application:Electric linera actuator for recliner will open and close the lift mechanism of power recliner or lift chair.Connects to motor handset hand control via 5 pin style connector,and connects to the power transformer via the stand 2 pin style connector.
Technical data:
Input voltage:12VDC/24VDC/36VDC
Max.load:Thrust 6000N,Pull 4000N
Speed: (5mm/s 6000N) (10mm/s 3000N) (20mm/s 2000N) (40mm/s 800N)
Duty cycle:10%,stop for 18 mins after continuoulsy working 2 mins
Ip grade:IP 54
Limit switch:Built-in limit switch,non-adjustable
Operation temperature:+5℃~40℃
Min.install dimension:285mm(175+stroke) [From center of Mounting Holes]
Max.stroke:450mm
Tail connector:90º rotation available
Memory function:optional
Colour:Black/Grey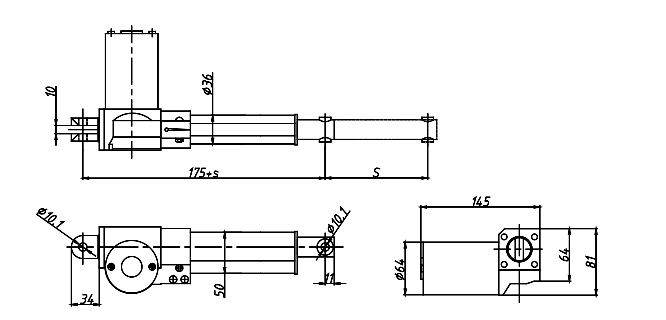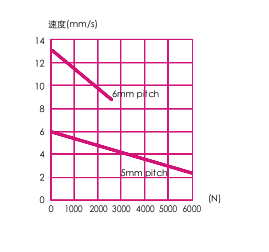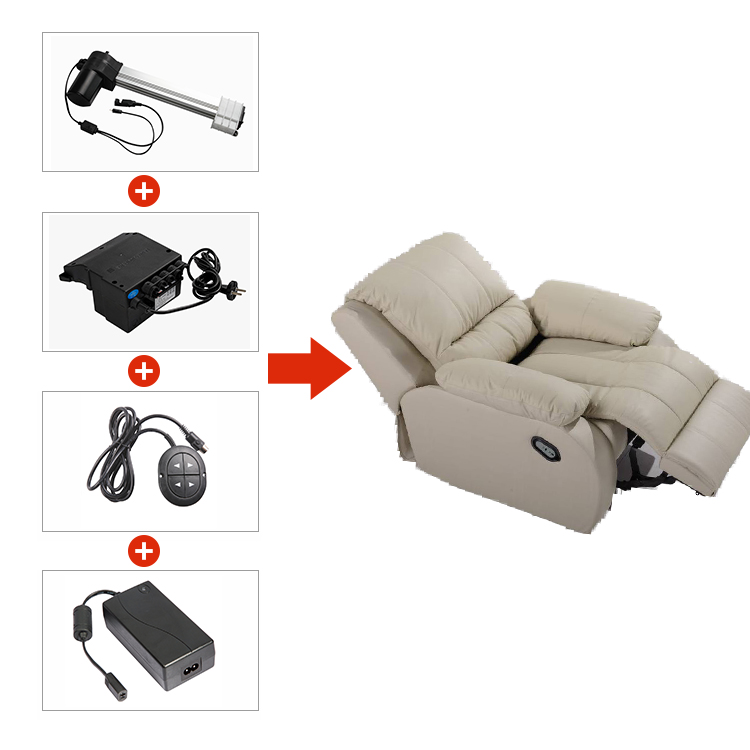 Why choose us:
1.100% copper motor. 5. 6000N=600KG=1230LBS Max force 6. 5mm /second=0.2inch/second speed
2. Wiring included, pre-installed,perfect wire cable.
3. Built-in clutch and limited switch prevents over-extending and over-compressing.
4. Aluminum Alloy House material and Aluminum Alloy extend shaft material 10.
5.Steel connector