Product Description
Product Description
Linear Actuator For Recliner With Control System
Xinyi Linear Actuators are Widely used in Smart Furniture(Including Electric Recliner,Electric Lift Chair,Electric Sofa,Electric Massage Chair,Smart Kitch Hood,Adjustable Bed,Adjustable Table),Medical Care(Inclding Patient Lift,Medical Bed,Dental Chair,Adjustable Exam Table Actuator,Electric Wheelchair).
The Input Voltage for this linear actuator for electric recliner chair is 12VDC/24VDC/36VDC.The max load for this recliner linear actuator is 8000N,pul 6000N,Duty cycle is 10%,stop for 18 minutes after continuously working 2 minutes.Ip grade is IP 54,Limit switch is built-in,min install dimension is 285mm, max stroke is 450mm,tail connector is 90 rotation available,memory funtion is optional,The electric linear actuator for recliner is black or grey color.
24V 6000N DC motor for electric recliner is an actuator that creates to the circular motion of a conventional ecectric motor.Sofa recliner motor are high quality with low noise,over-load protection are installed.DC Motors for Electric Recliners are widely used in machine tooles and industrial machinery,in computer peripherals such as disk drives and printers,in valves and dampers,and in many other places where linear motion is required. Linear Actuator for Recliner Chairs are quiet and powerful design.Power recliner motor replacement,the thrust up to 6000N in push,and up to 4000N in pull.Elegant and compact design with small installation dimensions.
Features:Basic and economic design,Up to 6000N load capacity,direct mounting on control box possibility,Long lifetime.
Mimimum installation size(distand between the push holes and the two holes before and after the return of the putter)L=S(stroke)+175mm,the distance between the push and the two holes before and after is extended to =2SX(stroke)+175mm.
Standard protection class:IP 54.Noise level 48 dB.
Application:Electric linear actuator for recliner will open and close the lift mechanism of power recliner or lift chair.Connects to motor handset hand control via 5 pin style connector,and connects to the power transformer via the stand 2 pin style connector.
Technical data:
Input voltage:12VDC/24VDC/36VDC
Max.load:Thrust 6000N,Pull 4000N
Speed: (5mm/s 6000N) (10mm/s 3000N) (20mm/s 2000N) (40mm/s 800N)
Duty cycle:10%,stop for 18 mins after continuoulsy working 2 mins
Ip grade:IP 54
Limit switch:Built-in limit switch,non-adjustable
Operation temperature:+5℃~40℃
Min.install dimension:285mm(175+stroke) [From center of Mounting Holes]
Max.stroke:450mm
Tail connector:90º rotation available
Memory function:optional
Colour:Black/Grey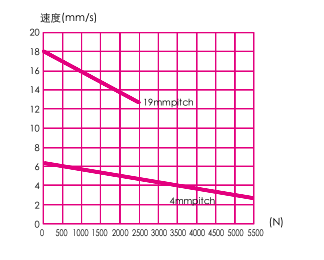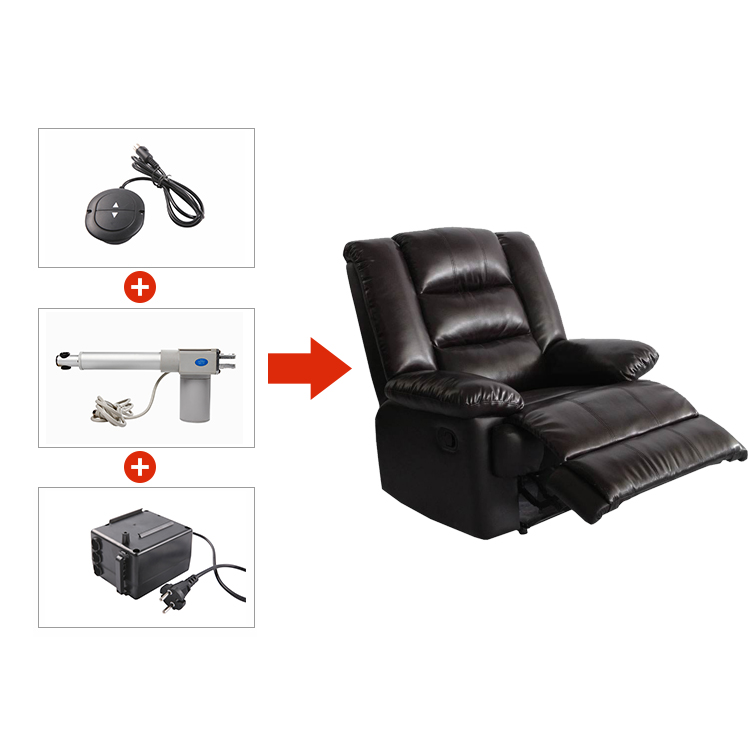 Why choose us:
1.100% copper motor. 5. 6000N=600KG=1230LBS Max force 6. 5mm /second=0.2inch/second speed
2. Wiring included, pre-installed,perfect wire cable.
3. Built-in clutch and limited switch prevents over-extending and over-compressing.
4. Aluminum Alloy House material and Aluminum Alloy extend shaft material 10.
5.Steel connector
FAQ
Warranty
1. If you did not receive product, we will full refund you. 2. If the product had quality problem, we will full refund you. 3. If the product was damaged by shipping company, we will full refund you.
Payment
Paypal,Alipay,Western union or bank transfer.
Shipping
1. All items listed in our store are in stock. Order will be delivered within 2 working days. 2. We use China post air mail but it takes long time. If you want fast delivery, please tell us before ordering and we will select the best shipping method. 3. Please make sure your address and phone is correct. If it is wrong, we do not care any more charge.